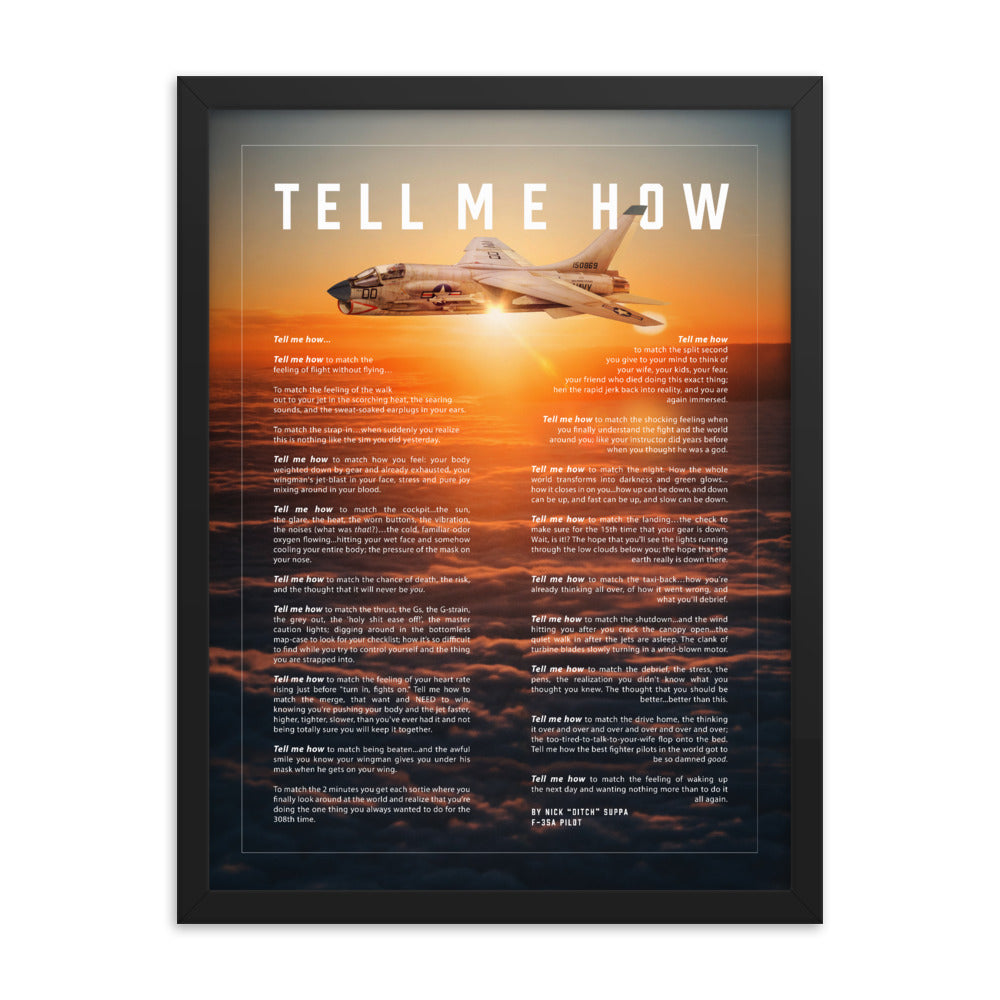 F-8E Crusader at sunset, framed ready for hanging. Vietnam Series.
$74.95
Here we see the F-8E Crusader set against a red sky in this beautifully framed version of the Tell Me How ode to flight.  You won't find a better way to display your favorite jet  than with this print hanging on your wall ready for that moment when someone asks what you do (or did) in the military. Just step back and point to this handsome piece of art.  All 18 stanzas are certain to bring back  memories and start conversations with family and friends. Best of all, everything you need comes in one package, ready to go up on your wall with just a hammer in your hand.
Details. This is a  luxurious 18x24 inch print   beautifully framed by  a ¾-inch Alder, semi-hardwood frame that is tough yet   lightweight. The poster is printed on Epson Ultra Premium Luster Photo paper, the same paper used by professional photographers to bring out the smallest details in their prints.  The front is  protected by a crystal clear Acrylite protector known for its strength and safety, plus with excellent UV protection and museum quality clarity all in a light weight, scratch resistant protector. Each framed poster comes with hanging hardware and is ready to go.
The poster inside the frame is 18x24". With frame, the exterior dimensions are approx.. 19.5 x 25.5"
• 10 mil (0.25 mm) thick paper
• Alder, semi-hardwood frame
• .75" (1.9 cm) thick frame
• Acrylite front protector
• Hanging hardware included